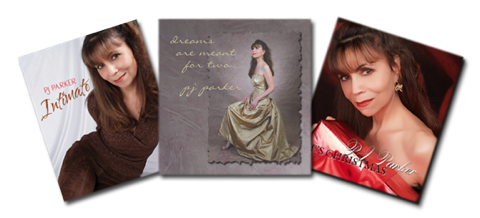 PJ has released three CDs: "Intimate," "It's Christmas" and "Dreams Are Meant for Two," each of which has been met with critical acclaim and worldwide airplay on terrestrial and Internet radio.

Click here for more information about each CD, including song samples and purchase information.
PJ'S SCHEDULE OF APPEARANCES
BOOKING PJ PARKER – REQUEST HER CLUB PREVIEW PACKAGE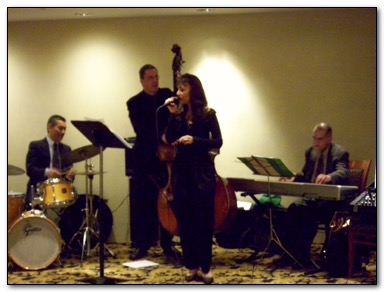 From an intimate dinner setting to a dynamic big band stage, vocalist PJ Parker brings a lifetime of experience, a passion for the music and her unique ability to connect with her audience to every engagement.

PJ appears with ensembles encompassing simple, elegant piano accompaniment to a high-energy big band, presenting a repertoire of songs ranging from the Great American Songbook to her own, award-winning compositions.

For your event, restaurant, house concert or jazz club, request her Club Preview CD Package: booking@pjparker.net or call (732) 873-0073.
A native New Yorker, a graduate of NYU's vocal music program, student of the classics in five languages, toured throughout the United States and Caribbean.

Performing in concerts, summer stock, regional theater and musical reviews, PJ has also been the featured vocalist with orchestras and bands from Atlantic City to New York City.

As a jazz vocalist, PJ has performed with such artists as Jerry Bruno, Roy Cumming, Steve Gilmore, Harry Leahy, Keith MacDonald, Gary Mazzaroppi, Geary Moore, Rich Reiter and Radam Schwartz. She has also been the featured vocalist for opening act bands for John Pizzarelli and Harry Connick Jr., and appeared in Philadelphia's Variety Club Telethon.

Accolades:
Blues Nominee: 2012 Hollywood Music in Media Awards
Honorable Mention: 2010 Seventeenth Annual Billboard Worldwide Song Contest
Jazz Nominee: ISSA Song Contest 2009
Top 10 Finalist–Best International Artist: Australia's 9th Annual Music Oz Awards
Jazz Nominee: 2009 Hollywood Music in Media Awards
Semi-Finalist: 2009 UK Songwriting Contest

Discography:
Intimate (2006)
It's Christmas (2007, 2012)
Dreams Are Meant For Two (2008)

Film Credits:
PJ's original song, "Dreams Are Meant For Two," with music written by her late father, Jazz pianist Thomas E. Parker, makes its motion picture debut in Joe Basile's "West End." The movie won "People's Choice" and "Best Homegrown Feature" awards at the 2013 Garden State Film Festival in Asbury Park and was the "Soho's Pick" award winner at the 2013 Soho International Film Festival in New York City. It also won:
Downtown Film festival, Los Angeles:
Joe Basile - Best Director, Narrative
Joe Nieves - Best Supporting Actor
Manhattan Film Festival:
Best Crime Drama.

PJ may also be heard in the Golam Mustofa/Christopher Rinaman film and soundtrack, "A Drop Of Love," which has garnered five prestigious awards at the 2012 American International Film Festival.

Television Credits:
PJ's music has been included in episodes of Parenthood (NBC),
CSI: Crime Scene Investigation (CBS), and The Vampire Diaries (CW), as well as the Amazon streaming program, "Hand of God," starring Ron Perlman and Dana Delany.
WHEN PJ PARKER SINGS, PEOPLE LISTEN! This dynamic songstress and her equally talent trio of professional musicians (including pianist Vinnie Ruggieri) wowed the crowd at our "Taste of Somerset" culinary fundraiser for The PeopleCare Center -- people are still talking about their performance. There was magic in the air with a delightful array of tunes performed from the Great American Songbook. From jazz to classic contemporary songs, our guests went home full in the belly, as well as delighted in their hearts! We look forward to the return engagement of PJ Parker and company.
-- Rev. John Graf, Jr.

PJ Parker has performed for two years at the FoodBank of Monmouth & Ocean Counties' annual Culinary Classic fundraiser. This high visability event attracts between 700 to 900 guests each year and PJ's delightful voice provided the perfect atmosphere for our guests. Her selections include wonderful classics as well as newer melodies that have received creative and smooth arrangements.
-- Ellen Komment, The FoodBank of Monmouth and Ocean Counties

NO WORDS CAN DESCRIBE THE JOY PJ BROUGHT TO MY FAMILY during the Christmas Season of 2011. Both my husband and father-in-law were deathly ill. After a long struggle in the hospital my father-in-law was sent home to pass away and my family was devastated. In an attempt to lift our spirits, we posted an ad seeking a musician willing to come to our home and perform my father-in-law's favorite music from Les Miserable. We never dreamed that an accomplished artist such such as PJ would have a heart big enough to accept this offer. From the moment PJ and I spoke over the phone, it was clear PJ loves what she does. PJ is the ultimate performer! She filled our hearts and the room with the light of her music. She, and her accompanist ,Vinnie, would be comfortable anywhere from a dark and sultry jazz club to a Broadway stage, and everywhere in between, including my father-in-law's living room!

We were absolutely wowed by PJ's performance and her effortless talent. To this very day, our family credits PJ's beautiful music with curing my husband and father-in-law who both made miraculous recoveries. PJ is simply exquisite!
-- Holly Reagan
PJ'S SONG MAKES MOVIE DEBUT IN AWARD-WINNING 'WEST END!'

PJ's original song, "Dreams Are Meant For Two," with music written by her late father, Jazz pianist Thomas E. Parker, makes its motion picture debut in Joe Basile's "West End." The movie won "People's Choice" and "Best Homegrown Feature" awards at the 2013 Garden State Film Festival in Asbury Park and was the "Soho's Pick" award winner at the 2013 Soho International Film Festival in New York City. The film also won awards at the Downtown Film Festival Los Angeles and the Manhattan Film Festival.

The song, which is also performed by Parker, appears during an opening scene with Eric Roberts (Runaway Train) and Isabella Hofmann (Grey's Anatomy), who play married couple Victor and Mary Trevi.

Parker, a Somerset County, New Jersey resident, wrote the "Dreams Are Meant For Two" lyrics to her father's 1940's music. The song is also the title track in Parker's third album. Besides "Dreams Are Meant For Two," Parker has released two other albums, "Intimate" and "It's Christmas." Her music has also been heard in prime time television's "Parenthood," "CSI: Crime Scene Investigation" and "The Vampire Diaries."

'West End' was written, produced and directed by Red Bank, NJ native Joe Basile, a veteran actor who has appeared in more than 25 television programs and 15 movies.

The movie follows Vic Trevi, played by Neal Bledsoe (Ugly Betty), who has returned to the Jersey Shore following the mob-ordered murder of his gangster father, Victor (Eric Roberts). The younger Trevi seeks to find out who killed his father, while hiding his identity as an undercover FBI agent, from his mobster family.

Also starring in the film are Melissa Archer (One Life To Live); Paul Calderon (Pulp Fiction); Wayne Duvall (Lincoln); Anthony Mangano (Point Break); Lou Martini (The Sopranos); Joe Nieves (How I Met Your Mother) and Peter Onorati (Goodfellas).

For a sneak preview of "West End," visit its web site at www.westendthemovie.com/teaser.html.
IN MEMORY OF VINNIE RUGGIERI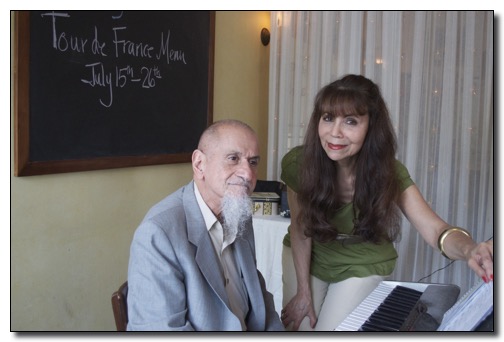 It is with the heaviest heart and deepest sorrow that I acknowledge the passing of my dear friend and musical mentor, Jazz pianist Vinnie Ruggieri.

For over 12 years, he was my greatest musical influence since my father, Thomas Edwin Parker, also a gifted pianist and composer.

I first met Vinnie at a little restaurant gig nearly five months to the day after I lost my Dad, when he subbed one night for another great musician, John Bianculli. I fell in love with his chording, his delicate touch, his sensitivity to my phrasing. He reminded me so much of my Dad's playing.

Over these 12-plus years, Vinnie shepherded nearly every musical project I contemplated, including the three Jazz albums we recorded together. His encouragement and nurturing of my own fledgling compositions was unfailing.

Vinnie taught me life lessons and heart lessons, always designed to get me out of my own way. He never minced his words. With Vinnie, you always got the truth – not always pretty, but real and trustworthy. His praise was minimalistic. A "nice, PJ" spoke volumes.

Vinnie Ruggieri was always "there" for me, through the chaos and mini-dramas, even as I would exasperate him about one thing or another. He made me laugh at myself. He helped me value myself. He insisted that I trust myself.

The last heart-to-heart talk we had was right before a December 12 concert. We were going over one of my own songs, and when we finished, he started at me for a millisecond, grabbed the lead sheet and practically shook it in my face. "Girl, you sing great, but THIS is your gift. You write beautiful songs. They all tell a story. They mean something. THIS is your gift. This is it."

He had me in tears then, as he does now, writing this. I wrote down every word he said and taped it to my mirror as a reminder every day.

At that last rehearsal we also did talk about health issues, and as usual, I was annoying him about taking care of himself – that I didn't want anything to happen to him. He gave me a sweet look and said, "Nah, I'm not going anywhere, don't you worry." I told him he'd better not, or I would haunt him forever. We laughed. That was December 10.

I have loved Vinnie Ruggieri as long as I have known him, and I will miss him even more than I can fathom at this profoundly sad time.

He lived unapologetically but shared his soul and his musicianship unselfishly, and I truly trust and believe he will shine through each and every one of us whose lives and art he has touched.

Thank you, dearest Vinnie, for it all.